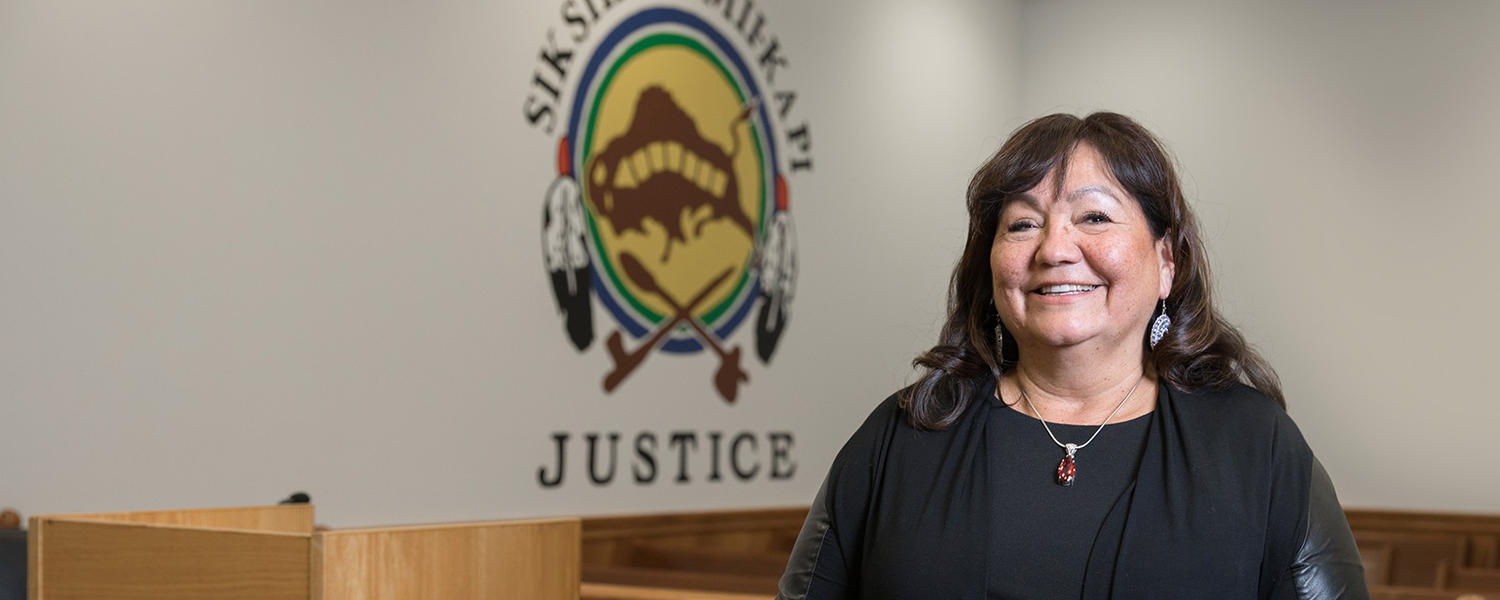 Grace Auger, LLB'95
Career Achievement Award
Criminal lawyer for Legal Aid Alberta, mentor of law students, former chair for the Alberta First Nations Women's Economic Council, leader in law and diversity initiatives
Rare is the person whose career is described as "sacred" or "deeply personal" or "a calling," but Grace Auger, like her profession, is anything but typical.
As a staff lawyer for Legal Aid Alberta on the Siksika Nation, Auger knows all too well what it's like to be the "other." Not only was Auger the only Indigenous law student in her cohort at UCalgary and the only student raising three kids under the age of eight, but she was also the only one with a childhood marred by extreme poverty and substance abuse.
The load was colossal but, frankly, nothing new for Auger whose life has been spent breaking barriers and fighting extraordinary obstacles. One of her earliest memories, in fact, was that of being a six-year-old fleeing Saskatchewan with her mother and brother, bound for Edmonton where they could escape her alcoholic father. "We were so poor," Auger recalls, and her voice catches. "Our first rental place had a shared bathroom down the hall and I remember seeing my mother wrap all our food — salt, sugar, flour, anything with a hole in it — in Saran Wrap to keep the cockroaches out."
After her father sobered up, her family moved to another place in the capital where Auger found solace in school. "It was my safe place," Auger recalls. In fact, it was the pursuit of education that kept Auger motivated to create a better life for her children.
Marriage to artist Dale Auger, a baby, and the loss of a second child prompted a move to Calgary where they wanted a fresh start — a start that involved Auger beginning post-secondary studies. That's when she majored in Women's Studies that, in a circuitous fashion, led her to UCalgary Law.
Calling her current work "enhanced duty counsel," Auger, a Cree woman who has lived most of her life throughout Treaty 6, 7 and 8 lands, has a unique perspective on Canada's criminal justice system and the overrepresentation of Indigenous offenders in custody. Depending on the case, she may recommend a client seek Aiskapimohkiiks — a Siksika cultural traditional mediation program that may involve a team of addiction counsellors, elders, psychologists and anger-management experts. The program is designed to help heal the person so they don't repeat the offence and, instead, may grow from it. After her clients successfully finish the program, they report back to court, where their original charges are reassessed.
"My role is to give people some consistency, trust and respect," Auger says. "Having a full-time lawyer placed at Siksika helps build that trust so that clients won't have to repeat their stories to somebody new who may come along.
"That is really why I went into law — to give Indigenous people a voice."
And what a voice, one that was heard as a Crown prosecutor (for seven years) and now at Legal Aid Alberta (where she's worked for 12 years). Whatever side of the bench she's been on, Auger has spent her career narrowing the cultural gaps between Indigenous and non-Indigenous groups.
Former UCalgary professor and now Supreme Court of Canada Justice Sheilah Martin remembers Auger as a "quiet leader who made superb contributions to class . . . with an eye to putting her legal expertise and brilliant mind to work for the betterment of Indigenous people and communities."
The biggest thing that Auger gives her clients is the sense that someone is listening to them. That someone will give them a voice.