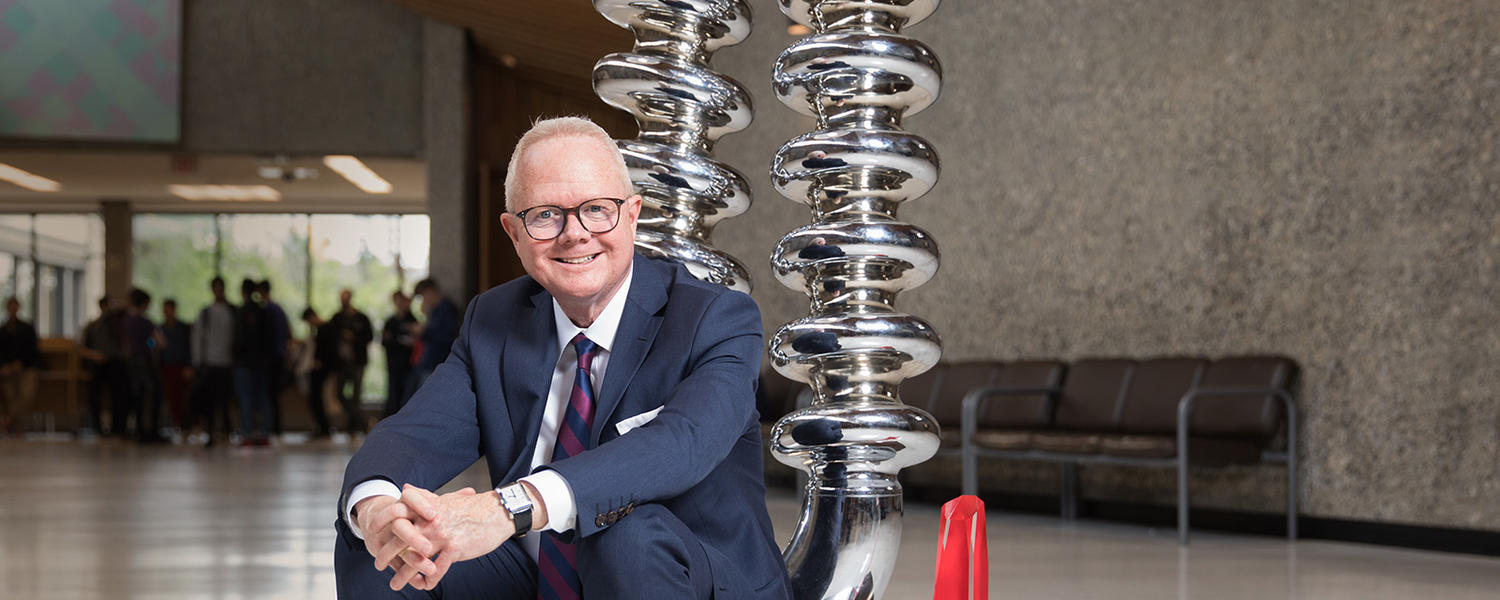 Rob Allen, BComm'82
Alumni Service Award
CEO of Aligned Outcomes; former member of the UCalgary Alumni Association and has sat on dozens of UCalgary advisory councils, committees and mentorship programs
There's a story Rob Allen likes to tell. He was studying business at UCalgary (after a couple of false starts in science and poli-sci) when Dean Mike Maher requested a private meeting.
"I thought I might get turfed," confesses the former GM for IBM's Oil and Gas Division in Canada. "At the time, I was this redheaded kid playing in a band, writing for the Gauntlet, working as a producer for CJSW . . . some saw me as unfocused."
The dean's advice to Allen? "Pick one — music or business. But get something done," Maher said. "And, by the way, faculty-student elections are coming up in the spring and I think you should throw your hat in the ring."
And that was exactly why Allen found himself back in Maher's office, a few months later, representing business students — he had taken the dean's advice and put aside his guitar.
"I think that student-rep experience was when I realized that I had some skills in getting people to rally around a cause and effectively communicate, whatever the story was, to the management faculty and academics," says the affable Allen, who, decades later, continues to hide his talents behind a wall of humility. "I think it was then that I realized my skills were about storytelling, something I have always loved."
In so many ways, that seminal experience laid the foundation for what Allen went on to do in his 30-year career at IBM — a career that spanned top-level work in cities from New York to Zurich, where he led coalitions of hundreds of people. But it wasn't until Allen returned to Calgary from Zurich in 2009 that he decided he wanted to give back in the form of mentoring others.
"I had seen, first-hand, the impact that a quiet, guiding hand can have in actually shaping a person's trajectory," he explains. "I've been lucky enough to have many mentors, but Mike Maher was the one who nudged me on to a path that was straight and had purpose. Actually, Mike was one of the reasons I decided to invest my time in the university, because, just like before, when I came back to Calgary I was volunteering with too many organizations and I wanted to consolidate my volunteering in one place.
"Volunteering at the university is always exciting," adds the father of three young women. "You're always engaging with people who are thought leaders, who like to debate things and explore new ideas.
"As for mentoring students, it's odd, but I often mentor people in other areas than my own ['sales' is what Allen refers to as his lifework], so all I can do is offer perspectives on how to get their career going, or I try to share my network with them."
Allen also suggests that people don't map out their careers in a linear track and pay attention to the way trends and markets shift, enabling them to react with speed and agility, ensuring quick pivots.
It was another hero of Allen's that taught him those crucial lessons — the consummate shape-shifter Bob Dylan, whom Allen has seen perform nine times.
"Every time Dylan gets to a certain point, he's able to change his façade and find another way forward," says Allen. "He became a model for me in terms of constantly having to evolve. Whether it's getting new skills or putting a twist on your story — that inspiration and guidance, for me, has come from Dylan. In the past few years, I've had to shift from being an IBM executive to being an entrepreneur, and that shift forced me to question what skills I had and what I needed to develop."
Allen quotes a piece of advice he gives his mentees: "We all have to pay attention to the signals around us and be willing to adjust the channel of our story that we tell the world."